Distribution Services
The end point of our content development effort is to distribute your content to an audience of students who did not or could not attend the live presentation. There are a wide variety of distribution methods to accomplish this goal. The following topics are not a complete list or discussion of these many options. However, here is a representative list of possibilities from the lowest to the highest state of technology.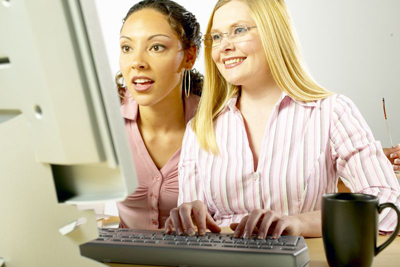 AV Simple can produce, deliver and support your content using any of these distribution schemes.
Audio Only on "Music Type" Offline CD
This is the traditional but outdated method of distributing educational content to remote students. Little if any audio editing is performed. No sequencing with visual material is needed. The raw audio tracks are essentially placed on "music type" compact disks and distributed to users many of whom play these disks on their car stereo while traveling. This is an economical and traditional solution. There are several drawbacks. The quality of the experience is not optimized since the visual channel of learning is not used. An audio music type CD can typically hold 60 to 70 minutes of material, so many disks are needed to offer a full day program. There are mailing and handling costs. You will have to manufacture the disks, and packaging and warehouse them before marketing and sales. If you need to change your content because of new developments, you will have to discard or throw away all old material in your warehouse that cannot be modified.
Audio Only on Digital Offline CD
This is similar to the music style CD, except the format can be in a more modern "compressed" digital file. This will allow many days of content to be contained on only one compact disk. The disk cannot be played on an audio only player, such as the stereo in an automobile. Instead it must be played on a computer. However your manufacturing, handling, mailing, and warehousing costs are much lower.
Audio Only, Distributed Online
Distributing the audio material online versus on a physical compact disk saves manufacturing, warehousing and inventory costs. You also may better protect your material from piracy or unauthorized copying and subsequent illegal distribution. If you need to change your material as time goes by, you modify the online version, and all subsequent students immediately have access to the latest version without any need to discard outdated inventories of compact disks. One example of how this can be accomplished is the "Podcast". Here is a Wikipedia Article that explains the use of a Podcast for content distribution in greater detail.
Audio and Visual Distribution Offline
Many of the options outlined above apply to material where there is a visual element sequenced with the audio element except for a "music only" compact disk. For example, the material can be placed on a DVD to be viewed on the students home DVD and television. A DVD however is old technology, and typically has a time limit of slightly over two hours of material. Thus, if you have a full day, or several days of material it would take several DVDs to distribute a long course. Instead of DVD, the material can be rendered in computer readable digital format, and in this format, many hours if not days of material can be distributed on one disk. It must however be viewed on a computer, and it cannot be played on a home DVD.
Audio and Visual Placed in a Learning Management System
A Learning Management System or LMS is software that is specifically designed to support online students. Much can be said about these systems, and you may wish to view the Wikipedia Article that explains the use of an LMS in greater detail. This is the ideal solution for a an educational provider that has a great deal of educational content. In addition to the audio and visual material, and LMS can offer chat rooms, forums, tests, quizzes, handouts, and much much more. This is the ideal solution for educational content. The software is complex, but fortunately not costly. There are many "Open Source" or free systems. One example is "Moodle" or Multiuser Object Oriented Distributed Learning Environment. You can read all about this excellent software at the Moodle Website. AV Simple has the expertise to help you setup and manage a Moodle based LMS or any other LMS of your choice. Our technical staff has deployed several LMS systems in a variety of settings. One example is a system now in use by one of our customers, WorkCompSchool. There are hundreds of hours of educational content on the WorkCompSchool LMS server using the Moodle platform. Students sign up for classes online, and tuitions are collected by credit card.
Large Scale Online Distribution
You can host your content on your own website, your own server or one of our servers.
AV Simple is equipped to support the largest of educational providers with the most demanding streaming content needs. We can position your content on one of our rack mounted servers located in a data center serviced by a dual sonnet fiber ring with redundant OC-48 connections at the core. We connect to the Internet with a DS-3 (45Mbps), OC-3 (155Mbps) and a GigaMan (1,000Mbps) connections to multiple backbone providers. All together we have access to over 1,455 Megs of backbone capacity. All this translates to fast, clean and reliable Internet connectivity. Our servers are provided with clean APC (UPS) power deployed in a parallel redundant configuration. In case of prolonged power failure we have a 1/2 megawatt turbo diesel generator that provides 100% of our power needs with a 24 hour fuel supply and guaranteed refueling contracts with local refueling companies. Our diesel power system is tested once weekly to insure it is fully operational at all times. Our servers are on raised flooring, and the server temperature is maintained by fully redundant data grade, Liebert down-flown (HVAC) systems with three levels of microprocessor control systems for constant 70-degree ambient air and humidity controlled to a constant 45%. The server room is automated and can detect and correct temperature changes outside of this profile. Multiple levels of fire protection include early warning detection, double pre-action dry pipe system, and multiple hand-held Haltoron extinguishers.
Large Scale Real Time Distribution
The technology today allows educators to broadcast their educational event as it happens to remote students anywhere in the world. AV Simple has the technology available to provide real time video and audio to an unlimited number of students located anywhere in the world. We make use of high end clustered edge servers in the EC2 cloud. We have unlimited bandwidth and the ability to control as many servers as needed to provide continuous real time content streaming if that is your choice of digital content distribution.
SCORM Distribution
The most notable emerging educational technology is SCORM or the Sharable Content Object Reference Model. Here is a
Wikipedia Article
that explains the SCORM technology in greater detail. Here is a simplified explanation of what SCORM does. SCORM is a packaging standard. To illustrate this, we will use as an example a movie DVD that you rent from Blockbuster and play on your home DVD. Before home DVD players became popular, someone had to define a standard for the players and the disks. All players where then built to follow the standard no matter who the manufacturer might be. Thus, if you rent a DVD movie that meets the standard (so many inches wide, so many inches thick etc.,) you are assured that you can insert the DVD in anyones DVD player and it will fit in the slot and play. If there were no defined packaging standard, there would be chaos in the movie DVD world. Today there are two competing and emerging High Definition DVD standards of which Blue-Ray is the most prominent. If you buy a Blue-Ray DVD player from any manufacturer, any Blue-Ray disk will fit and play.
Similarly, SCORM is a packaging standard like a DVD, except instead of a movie, the SCORM standard applies to educational content. If you create educational content and package it according to the SCORM specification, it will play in anyones Learning Management System that is SCORM compliant.
SCORM is an emerging standard, not yet ready for prime time. Nonetheless, you cannot ignore this initiative. It is product to select a tool set (See our Post-Production page to explain the tool set) that will allow you to render and package your content consistent with the SCORM standard in the future. AV Simple is well acquainted with this standard and will make sure you are prepared to meet the challenges of SCORM educational content distribution in the future.
The AV Simple Distribution Goal
Our goal as your educational content technology service provider is to support the distribution of your educational content using any scheme that is comfortable to you and acceptable to your students. We desire to partner with you now, and into the future when the you have the most demanding needs for the distribution of your content. There is no job to big or too small. We will meet your distribution needs today, and tomorrow no matter how you might choose to distribute your product.
---