Pre-Production Services
A great seminar begins with great planning. In technological terms, activities before your event are known as "pre-production" activities. Some presenters are able to perform their own pre-production. Others may need help. We can help you in any of these areas.
Curriculum planning.
Creating graphics, manipulatives, visual and audio aids,
Creating Power point slides.
Pre-load materials onto computers and test before the event.
Handout preparation.
Printing, collating, and binding.
Transport equipment and materials to the site.
Equipment setup, configuration and testing.
Don't Let the Technology Demands Frustrate You!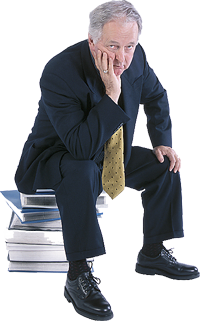 You are a Subject Matter Expert, not a technology expert. Technology can overwhelm most of us. Let us be your technology partner and ease the burden of your seminar preparation. We have a staff of professionals in all areas of expertise to help you. The complexity of creating educational content that meets current technology standards can be quite daunting. The most comprehensive document that explains what skills are needed in great detail was prepared by the Carnegie Mellon Learning Systems Architecture Lab. They published the Best Practices Guide for Content Developers, a 90 page document which specifies what is needed to prepare educational content for the emerging technology standard (SCORM) for digital educational content. On page page 14 of this document, they outline the team skills needed by the instructor to be successful.
Instructional Designer - Conducts the needs-and-audience analysis. Designs basic content structure. Creates design documents and design specifications and initial content outline. Works with other team members to ensure instructional integrity of final materials.
Subject Matter Expert - Works with the Instructional Designer and authors/developers to ensure the instructional materials are technically accurate and appropriate for the audience in accordance with client needs and requests. May work directly for the client.
Content Author/Developer - Takes basic instructional design and content outline from the Instructional Designer and writes all instructional texts or scripts. May request or design assets.
Programmer/Developer - Responsible for creating the content package required by the design in accordance with SCORM guidelines. may program the Learning Management System. Ensures the the Learning Management System functions properly before delivering instructional materials to students. Works closely with instructional designers to ensure content structure and sequencing behaviors meet SCORM technical implementation guidelines.
Graphic Artist/Media Producer - Responsible for creating assets (graphics, video, animation, etc.) and interfaces in accordance with requests from the Instructional Designer and content authors/developers.
Most seminar presenters do not have all of these skills. You may not need all of these skills at the pre-production phase of educational content development depending on your ultimate distribution goals. But, you cannot afford to be in ignorant bliss at the pre-production phase of development. You seminar, properly planned, can position you to later exploit diverse content distribution avenues in the future, even if this is not your current goal. Poor planning might create road blocks than could have been easily avoided.
We suggest that you call our office for a free initial consultation. We can explain these options more carefully to you, and help you plan for the future. Our goal is to partner with you for the long term development of your content, even if that is not your immediate goal. Planning today can open up opportunities tomorrow, and we want to open those opportunities and walk with you down the path to success.